Juxtapoz Magazine

Photography and Interviews, 2013-Present
Bill Owens: His Blue Suburban Skies
Winter, 2019 (Text)

One photograph in Suburbia, Owens's now classic documentation of American bedroom communities in the early 1970s, a young man climbs up a tree, plucking the few remaining dead leaves. "My dad thinks it's a good idea to take all the leaves off the tree and rake up the yard. I think he's crazy," the caption reads. He is crazy. It's an absurd task and a fitting metaphor for the idealized American dream the family is striving to attain. "This book is about my friends and the world I live in," writes Owens, in the introduction to Suburbia. The world he photographs is strange. It's mundane, caught up in everyday routine, in the pleasures of material and social wealth, and in the vague promise of a nebulous guaranteed happiness. But the photographs are not judgemental, they are simply self-aware, conscious of the drama present, but also of things clearly absent. And while not unique to the suburbs, the setting isolates and exposes certain contradictions about American life, especially in the context of the social and political turmoil in the country at the time.
Read the full piece
here
Carolyn Drake: Gentle Drifter
Fall, 2018 (Text)

There is an image from Carolyn Drake's series, Wild Pigeon, of three men, shovels in hand, passing in front of a water-filled ditch. Into the distance figures move to and fro, across and over mounds of rocks and dirt, silhouetted by the textures of a pocked desert landscape. Animals, figures, and structures drawn on the surface of the photo hint at something more personal, though; stories, history, culture, and a shared but quickly changing relationship with the land. Like many of Drake's photographs, there seem to be multiple conversations happening at once, conscious and subconscious, between photographer and subject, subject and place, place and time.
Read the full piece
here
Jeffrey Cheung Portraits
Summer, 2018
Rebecca Louise Law: Painting on Air
Spring, 2018 (Interview)

Standing amid a suspended cloud of thousands of flowers cascading from the ceiling, I realized that an installation by Rebecca Louise Law can be appreciated with eyes closed as well as open; physically looking at it is just one aspect of the experience. Recalling the wonder and innocence of a childhood spent outdoors, of lying in a field or playing in the garden, Law seeks to transform the physical senses evoked by being in nature into a work of art. "I wanted to paint in the air," she explains, and "I needed a material to help me do this." Using the flower as sculptural material allows Law to create a space where the viewer can experience being inside the art, absorbing fragrances and textures, observing not only the beauty and colors of life, but the eventual decay, death, and preservation.
Read the interview
here
Mexico City: The Center Holds
Winter, 2017 (Text and Photography)


It's easy to romanticize México City with its colorful balance of tradition, modernity, affordability, arts and culture. On the flip side, there is the temptation of viewing it through a lens of staggering statistics, pollution, political uncertainty, cartel violence and poverty. Home to over 25 million, and covering 3,700 square miles, Greater México City, or Distrito Federal (DF), has a larger population and economy than over 100 countries in the world. Reality is complicated, and tragically, as we were forced to remember in September, 2017, it is vulnerable to the destructive potential of the region's shifting tectonic plates.
Read and view more photos
here
Smithe Interview and Portraits
Winter, 2017

At one point during my conversation with Smithe, he insisted that he doesn't like to give advice because he isn't good at it, only to follow the declaration with some good, practical counsel of his own. "It is always better to do than to speak." As the day went on, I understood these are words he clearly lives by. Between a design studio, clothing brand, gallery, playing in a band and touring the world painting murals and participating in exhibitions, Smithe is always doing something. His response also illustrates the light hearted, humble attitude with which he reacts to accomplishments and interacts with friends, fans, and collaborators.
Read the interview
here
Saner Interview and Portrait
November, 2017


Saner has painted murals and participated in exhibitions everywhere from Morocco to Arkansas, combining contemporary Mexican and ancient Aztec and Mayan iconography with local history and folklore from around the world, as he tries to understand what divides us, and, hopefully unites us. Such travels have strengthened his roots and resolve to be part of a generation that learns from elders, teaches its youth, and creates positive change in a complicated world. "Sometimes society builds walls," he tells me, "but if we never break them down, we'll never have the opportunity to find out what kind of society we can have."
Read the interview
here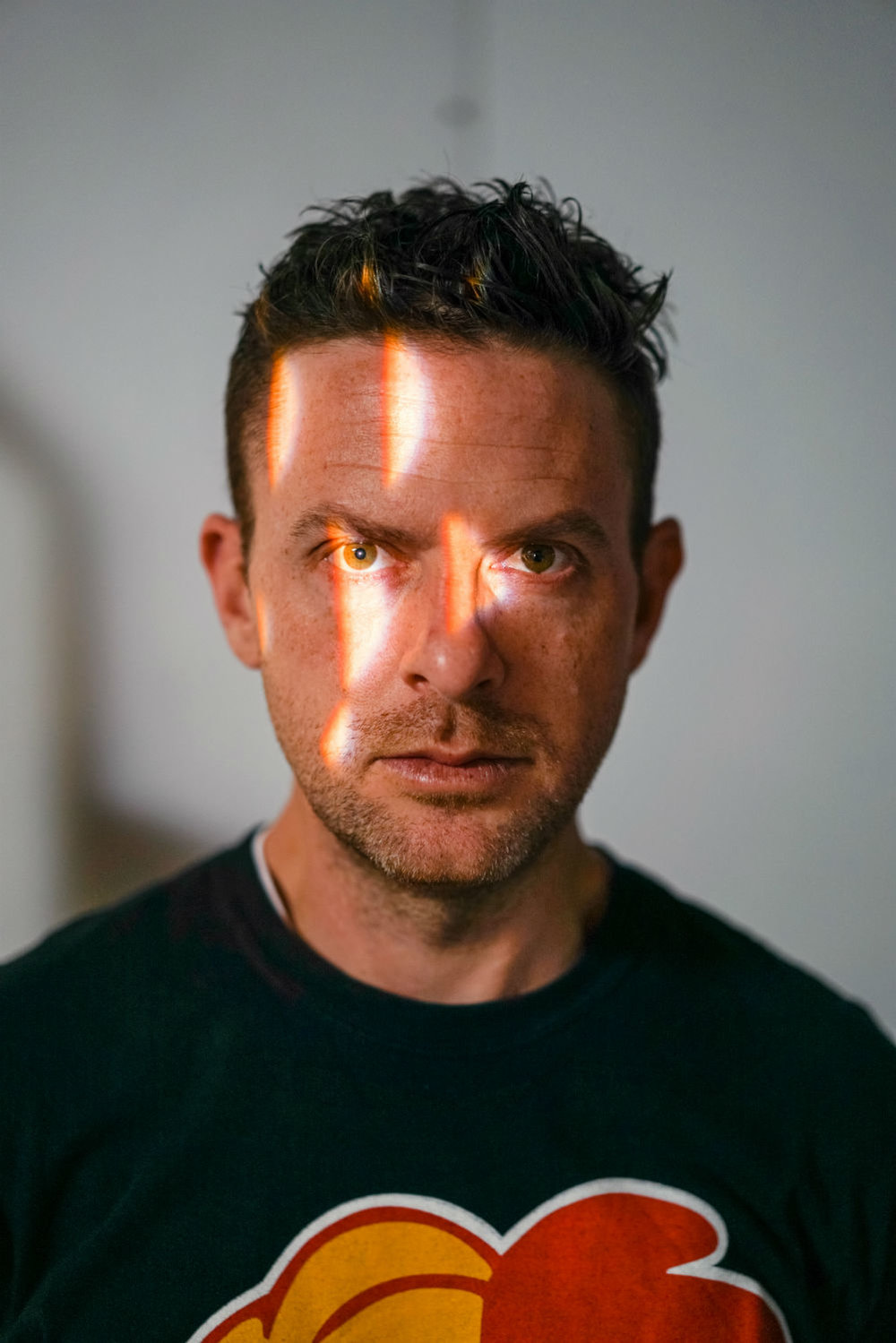 Adam Feibelman Interview & Portrait
May, 2017

Walking into Adam Feibelman's studio is walking into a mess, a good mess, in that satisfying, artist-at-work kind of way. Surrounded by projects in various states of completion, scattered and stacked on every available surface, I was careful to avoid toppling the very large vase precariously filled to the brim with used X-Acto blades. On one visit, a bicycle wheel sat on a ladder in front of an old projector as Adam demonstrated how the shadows moved through the different patterns he cuts out. A few weeks later, I strolled in to find him making a silicone replica of the leg of the Hungarian camerawoman caught on film, tripping and kicking fleeing Syrian refugees. "The idea for a piece will come up, and for the most part, I'm able to execute it then and there," he tells me. "I think it's why I naturally gravitated towards art, but it took some time to figure out which ideas were worth pursuing."
Read the interview
here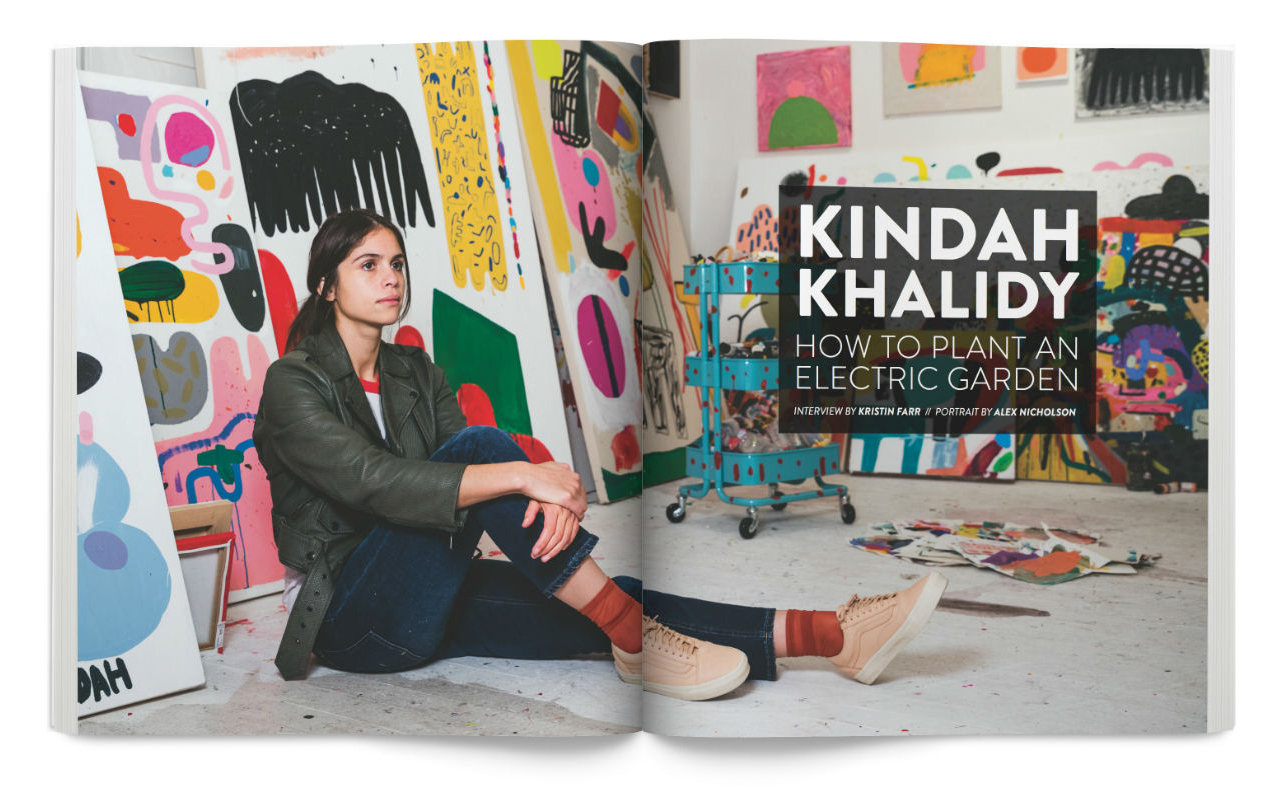 Kindah Khalidy Portraits
April, 2017
Various Work
2013-16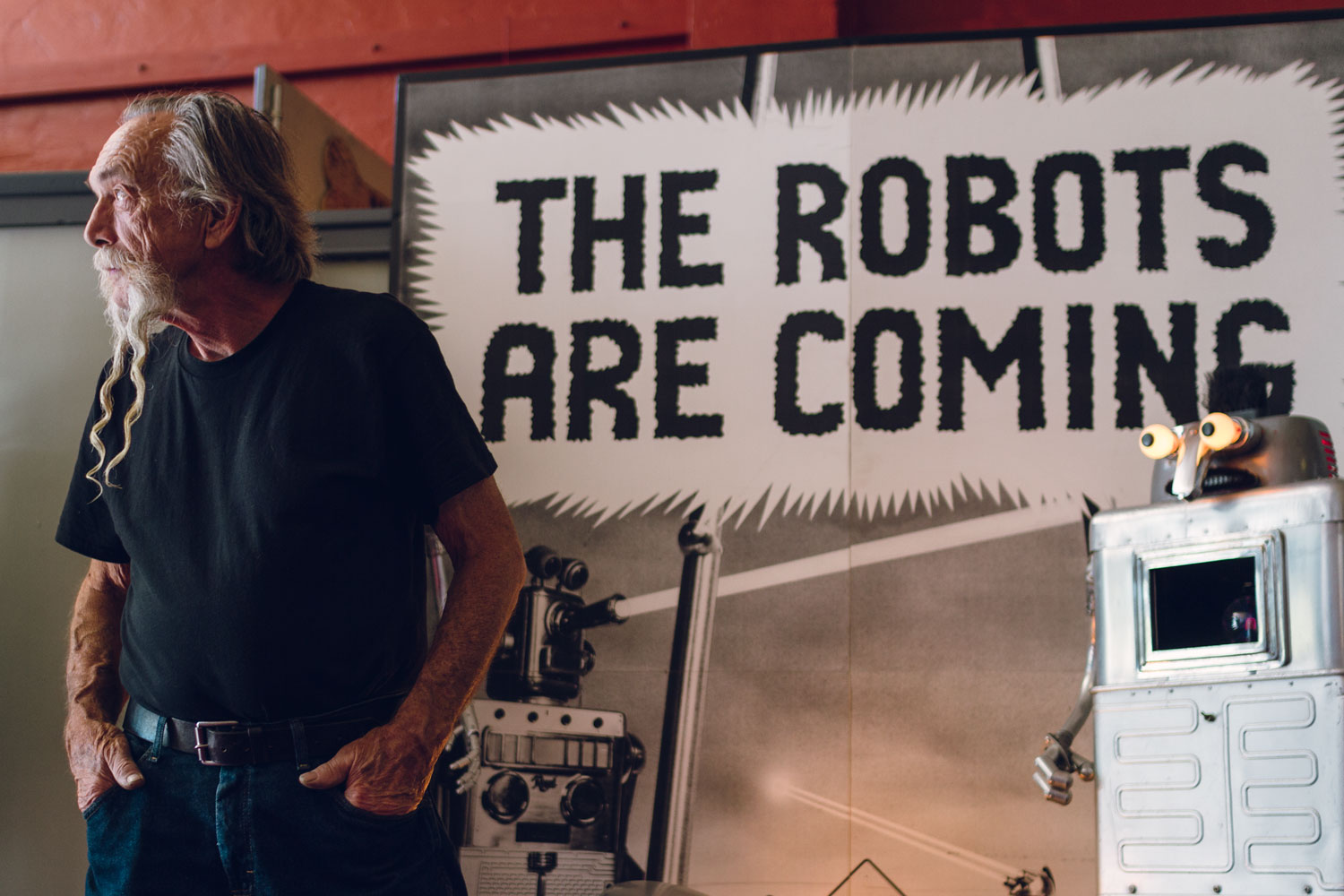 Beach House
Once Again the Bedroom Band
July, 2016

In "an attempt to elicit this pure, embryonic state of mind for ourselves and our audience," this spring, Victoria Legrand and Alex Scally of Beach House held fourteen small "installation" shows interspersed throughout their North American tours. Held in art galleries, community centers, and other unique creative spaces, the experimental performances were conceived as a way, while on tour, to deepen and maintain the spirit of creativity that inspired the music. The day after returning home from their tour in support of two 2015 releases, Depression Cherry and Thank Your Lucky Stars, and after a large cup of coffee, Alex Scally explains how the idea originated, and reflects on the different ways in which both the band and the audience experienced more than music.
Read the interview
here
El-P of Run the Jewels
Out of Their Hands
February, 2015

When Killer Mike and El-P released their debut album together as Run the Jewels in 2013, they tapped into an unexpected energy that has reverberated beyond just music. It's almost become a phenomenon; a unique somethingthat is perhaps at the heart of their friendship and creative collaboration. "We weren't looking for anything," El-P told me. "We just found each other and everything that has happened out of it has been this roller coaster of unexpected cooperation and synchronicity." What manifested itself with RTJ over the past two and a half years is the response to the hand gesture featured on the album covers that has become emblematic. That is where we begin our conversation with producer and rapper El-P...
Read the interview
here
Sanjay & Craig Creators
Jay Howell and Jim Dirschberger
July, 2015

Creating an animated television series for Nickelodeon would seem to be a dream endeavor for any artist, and from what I gathered spending the day at the Nickelodeon Animation Studio with Sanjay and Craig creators, Jay Howell and Jim Dirschberger, it is as much fun as it looks. Jay and Jim have developed a special relationship, one that stretches beyond creative collaboration and into the friendship that is at the heart of their show. They are Craig and Sanjay. It's Saturday morning and who knows what adventures are in store for the two best friends? We started our conversation at Nickelodeon in Burbank, California, and continued throughout the day as they oversaw storyboard pitches and script rewrites, finishing off the day with a few beers at Jay's home studio.
Read the interview
here